We're based in Ventura CA and serve our customers in the area. Customers can always depend on us for prompt, reliable service from experienced and trained technicians, and your garage door installation is guaranteed to be done right the first time.

Garage Doors quire different types of work over their lifetime. A newly installed door will, after a period of regular use, require repairs and maintenance to keep them running flawlessly. Queen's mission is to provide a comprehensive service for any situation.
We Perform All Types of Garage Door Work
Queen doors and gates team is committed to professional installation, workmanship, and the highest standard of garage door parts and services.
We handle garage door repair jobs of any size for both commercial and business properties.
We do installations and replacements of any part you may require and have a selection of complete doors if you'd like a fresh start. The latest steel, carriage style, carriages with insulation, wood, and glass garage doors are in stock. Many design options, colors, and hardware choices are available so that you can have the most unique and personalized garage door.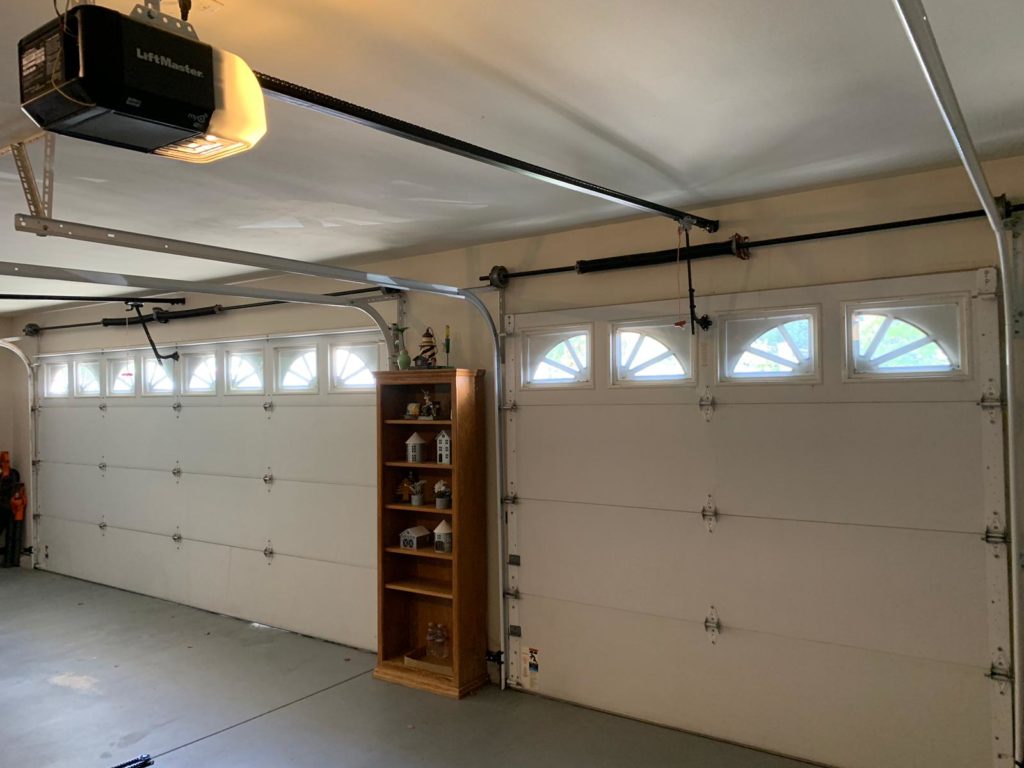 We provide repair services for:
Damaged doors – rollers, hinges, cables, door seals and tracks
Spring repair – Broken and deteriorated springs
Opener Repair – Partway or fully jammed doors, as well as intermittently working ones
Fresh Installations – Completely new brand name doors and systems
Garage Door Replacements – Replacement of Sections or Panels,
Complete Hardware Overhauls
Safety Inspections
Also, anything else that a garage might need!
Garage Door Repairs and Parts
We support all major brands and are licensed to operate with their products. We are always on your side, no matter how big or simple the repair job. Fixing broken panels quickly and safely or repairing a bent or misaligned tracks that are jamming the door is our speciality. If a spring or cable needs repair or replacing, you can count on our technicians to safely address the problem, and be sure it's a quick and easy fix when the right people are working on it.
We are fully stocked with garage door parts for any system you may need. When a technician arrives on the scene and inspects the door, they can repair and replace anything to your satisfaction. The job will be completed as fast as possible, most often in one visit. We specialize in new garage door installations too. Sometimes a garage door is broken beyond repair, or it's simply not worth maintaining anymore, and you would like to have an upgrade. We offer a range of different styles and options and name brands. A warranty covers labor and defects in workmanship for each garage door repair or installation.
Maximum Safety Guaranteed
Every year there are hundreds of reports of severe injuries from broken garage doors in Ventura CA. Attempting to repair a garage door by yourself, as well as ignoring warning signs of a broken door, can be extremely dangerous if you do not have professional assistance. Do not hesitate to consult a professional and get a second opinion from a trained and certified expert.
We strive to ensure absolute safety standards in our line of service. All of our technicians are highly trained and certified by the manufacturers and use the latest tools when conducting repairs. We also conduct maintenance checkups and consults per your requirements.
It's recommended that you inspect your garage door regularly and call us in case warning signs such as corrosion, creaking sounds, or track misalignment show up. We are always ready to assist you and send a technician over at any time.
24-Hour Emergency Garage Door Service
Garage doors often let you down and break at the most unexpected and inconvenient times. Whether your cable broke or your garage door came off the track and got stuck, once it happens, you are completely stuck. Another common problem is a broken spring. Springs are under the heaviest load when your door is closed, and often snaps when you are ready to leave and try to open the door.
Being stuck in your own garage, unable to leave for work or leisure is one of the worst feelings when you experience it. Our team at Queen Garage repair understands your struggle and is ready to come to assist you at any time. We have experienced technicians ready 24/7 to fix any garage door issues such as garage tracks, springs, openers, and any other problems.
Reach out to us right now, and we will respond in the shortest time. We offer all of our customers free quotes, just give us a call.