Need help with garage door repair in Ventura CA? Queen Gate Repair is a gate repair company serving residents and commercial property owners with efficient gate repairs at affordable prices. For 25 years, we've helped protect storefronts, businesses, and garages with professional repair services for our fellow citizens.
Ventura CA Full Service Garage Door Repair
We quickly react to your call and arrive with the knowledge, tools, and expertise to repair your garage door without delay. Our technicians are highly dedicated to every job, no matter how trivial or extensive. We have built our business as a trustworthy service that places long-term customer satisfaction first.
A garage door is something you use almost every single day all of your life. It's no longer a luxury, but an essential part of life. We often take for granted when our doors work flawlessly, and on the other hand, when there's a minor issue, it can absolutely drive us crazy. It's inevitable that problems will arise, and we have expanded our business through our career to tackle any repair job you might need.
List of Garage Door Services
Our company provides a full range of garage door repair services, including:
Alignment and Balancing
Proper alignment is crucial for quiet and elegant operation. Unbalanced gates have bad structural integrity and shortened lifespans.
Sensor Alignment
As with door alignment, sensors can also become misaligned. The sensor needs to be adequately calibrated for proper and safe opening and closing.
Spring Replacement
Springs can corrode or lose their strength over time. A deteriorated spring can become incredibly dangerous and threaten your safety. It's essential that spring repairs are done by professionals, as inexperienced people can get severely hurt on the ladder. The spring can break at any point and collapse the door completely, and even pop out of place and hit someone. If your spring is causing you troubles do not hesitate and call us right now.
Installation and Repair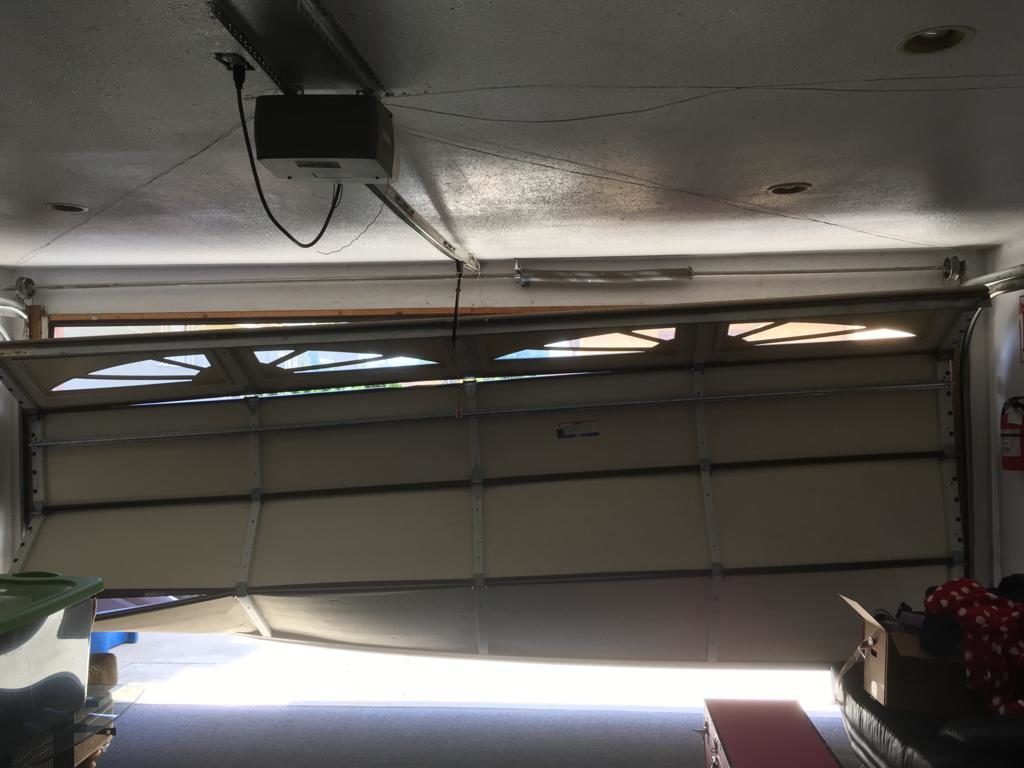 With over 25 years in business and thousands of happy customers, we have successfully installed many more doors than we can count. Any garage door that catches your attention can be installed by Queen on residential, commercial or business properties.
Garage Door Tune up
Our tune up includes inspecting the entire door system, lubricating all moving parts, performing a checkup of the safety reversal system, and inspecting door balancing.
Panel and Section Replacement
Bent or broken panels can be a sign of structural issues with your door and, if not addressed, can over time lead to bad alignment and wear on the door opener. We replace panels with new sets and ensure the new door will have excellent alignment.
Cable, Hinge, and Roller Replacement
We inspect and, if necessary, replace anything, including lift bracket, spring, and cable, as well as panel hinges and top roller carrier. Worn out rollers and hinges increase the stress exerted on the opener, so timely replacements will tremendously increase the opener's lifespan. In case your door is jamming, let our trusted team of technicians know. Safety and elegant operation is our top priority.
We offer fast and professional repairs in Ventura CA. Safety and customer satisfaction are our top priority above all else and we strive to bring our customers the most affordable prices. We guarantee proper work with warranties and do it right the first time.
Call us today!