Queen provides a comprehensive service of door installation. We have 25 years of experience in installing over a thousand doors in Ventura CA. If you're looking to have your door fixed quickly and correctly, we are the team for the job. Our technicians are highly trained and are ready to assist you at any time. We believe that work done speaks more than our words, so we invite you to browse the Our Work section and see some of our customers' testimonials on the home page too.
Need a new Garage Door Installed?
If you're ready to have a new door installed let us know right away. We'll respond in the shortest time and set the new door up quickly and with no mess left over. We install doors of any type, and if you have trouble selecting the right one for you, let us know so we can help you out. Selecting the right door will being various benefits based on aesthetics and functionality, and will give you a feeling of well being every time you're parking your car.
Risks of poor installation
Getting the garage door properly installed the first time around is absolutely crucial. A poor installation can give you a headache down the line and lead to malfunctions. When a door isn't correctly aligned or assembled, components scrape against each other and jam.
Not only that, but as the door isn't appropriately balanced, some parts will receive much more load than their counterparts – for example, the left spring will carry more weight than the right spring.
How we do it better
We guarantee that our installations will be done right the first time, and completely mess-free. With over 25 years of installations, we have dealt with all types of doors and situations. Go with the professionals and call us for a consult.
When installed by us, the garage door will be properly aligned, oiled, and firmly laid in place. Every nook and cranny will be adequately sealed, meaning you don't have to worry about your bills. With less heat loss, they can only decrease in the future. After a sturdy placement, your door will easily resist wind, rain, and storms.
It's especially important to have a steady door during the storm season to prevent detachment and damage.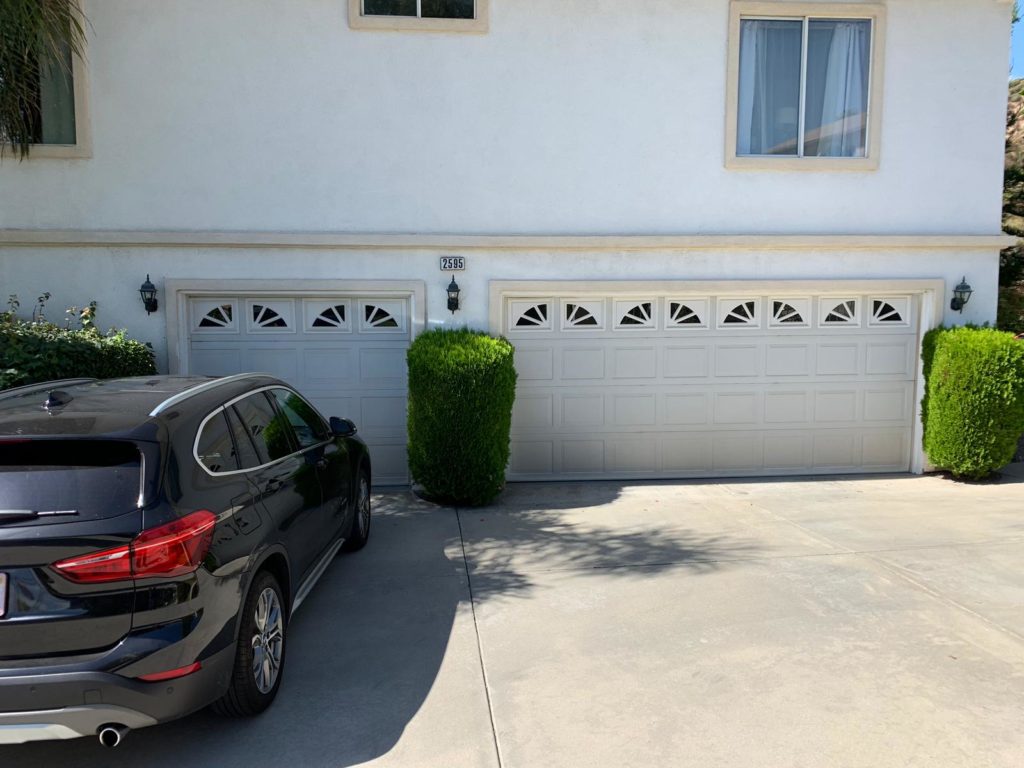 Our Selection
We take special care in helping you choose the right door for you, based on appearance, costs, and material. If you're unsure of which door to pick, let us know, and we will assist you. Our selection brings you doors from renowned manufacturers known for quality, and we have practical expertise with their doors, making the installation quicker. All doors for our customers are inspected first to confirm that they're sturdy properly functional for you. You can choose from a variety of types and materials.
Door Types
Single panel garage doors
Single Panel doors are made of one large panel as the name would imply. They usually open by swinging up and overhead with hinges on both sides. They are a practical choice for the average home garage but carry the disadvantage of requiring a big driveway. As they open by swinging up in the front, your car needs to be parked a reasonable distance of several feet away, not to hit your car.
It's possible to install the door differently and circumvent the space issue. When installed with horizontal tracks on each side, mounted on the top of the frame, and with a roller on each side, it's possible to make the door open with a much smaller overhead arc. We perform these installations if you're looking to improve functionality and save up on driveway space. A back-folding door will leave you at ease when parking upfront, not having to worry about being too close to the door anymore.
Sectional garage doors
Sectional doors are comprised of multiple panels and occupy the same amount of space as a single panel door. While being a lot like a monolithic door split into parts, the sectional door does offer distinct advantages. They do not require space in the front of the parked car, as each panel is connected to the door track.

Garage doors can be made out of many materials, including steel, aluminium, and wood. Many manufacturers also use foamed polyurethane insulation with the doors, as well.
Roller doors
Roller doors are usually made of steel or fibreglass. They have a rolling mechanism and roll directly upwards, meaning there's no need for a lot of space. They are an excellent choice for commercial purposes such as commercial storage facilities, shop and storefronts, and small businesses with drive-throughs like auto repair. Depending on your budget, they can either be installed with a manual pulley or a geared motor.
It's usually not possible to insulate them, but some manufacturers do provide support for insulation. Generally, as these doors are installed in commercial areas, most of the time, you won't get any benefit from buying an insulated roller door compared to the much cheaper standard variant.
Don't know the right door for you? We'll help you choose!
If you're struggling to pick the right door for your garage or property, we can help you make the right choice. Choosing between material, type, and opening mechanism should be made with desired functionality in mind. We can survey the garage and driveway area and make measurements to give you the most functional and economical solution.
Just give our friendly staff a call, and we will get back to you with our advice.